Exclusive wellness treatments
Relaxing moments.
In the multi-award-winning wellness hotel.
Choose the perfect wellness packages you've been promising yourself at the 4-star Superior Premium Wellness Hotel Burgmühle in Fischen in the Allgäu region. In our Vitalschlössle, a world of outstanding beauty with soothing treatments and unforgettable, relaxing moments awaits you. All wellness treatments are listed in the hotel brochure (in german).
Enjoy soothing symphonies of aromas, colours, warmth and light in the exclusive ambience of the Vitalschlössle spa. High-quality products with wonderfully healing ingredients nourish your skin and promote pure relaxation of body and soul.
Wellness packages for your holiday in the Allgäu region
Premium wellness products.
Exclusive treatments.
As a premium wellness hotel, we pamper our guests with exclusive products for beauty and massage treatments. Here we mainly use products from the brands Sothys, Pharmos Natur Green Luxury, Alpienne and Wiener Kosmetikum. The selected products are also available for use at home and we'll be happy to advise you on this in the Vitalschlössle, the beauty treatment and massage area in the Parkhotel Burgmühle in Fischen im Allgäu.
Sothys Paris
Sothys Paris is a French luxury plant-based cosmetics brand - refined and innovative products containing the latest active ingredients and sensual textures. The products were inspired by exquisite fruits, flowers, plants and spices. Grapefruit or cotton extracts, soy or aloe vera extracts and vitamins combine to create pampering textures.

In our wellness hotel we offer these exceptional beauty treatments in our treatments for you to experience.
Pharmos Natur Green Luxury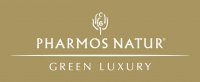 Pharmos Natur develops exceptional Green Luxury cosmetics, unique treatments and exclusive SPA treatments from unique healing, rejuvenating and regenerating plants from all over the world. Premium quality products. Holistic, ecological and sustainable, Pharmos Natur promotes beauty, health and joie de vivre.
Experience the remarkable effects of Pharmos Natur Green Luxury during the special treatments at Parkhotel Burgmühle.
Alpienne - Power of the Alps

Alpienne products are 100% natural and make the power of the Alps tangible. From arnica, St. John's wort, propolis, marigold and Swiss stone pine, Alpienne extracts its special, naturally pure body care products and natural cosmetics using a special process. Precious active ingredients from the plants, which mountain farmers used for healing centuries ago, are newly incorporated in healthy products.
Wiener Kosmetikum
Wiener Kosmetikum guarantees high-quality natural raw materials and thus produces exquisite lotions and aromatic oils from herbs, ginkgo and ginseng, among others.
These are active ingredients for skin tightening, detoxifying and invigorating wraps for different parts of the body. Wiener Kosmetikum aromatic wraps stimulate fat burning in the body and are also used in the treatment of cellulite and stretch marks. Firming wraps with caviare extract smooth the skin.